About Me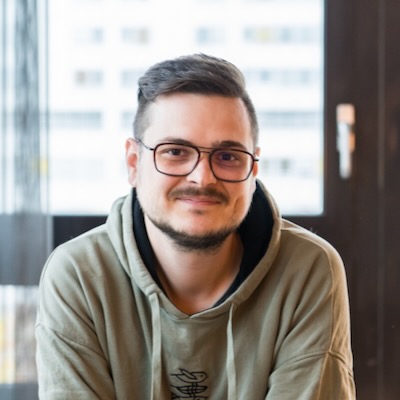 I'm Valentin Knabel, vknabel on GitHub and on Twitter. I maintain several open source projects including the Maintained Swift Development Environment extension for Visual Studio Code.
Currently I work at oput mostly doing iOS and web development. In my free time I mainly work on developer tooling like improving VS Code support for the Swift ecosystem and on my own toy-programming language written in Go, of course, including a Docker image, a Language Server and a VS Code extension.
My latest open source projects
Visit my GitHub profile for all open source contributions. For an up-to date overview of all VS Code extensions, visit my marketplace publisher site.
Work experience
Senior Software Developer, oput – since 2020
Project management
Development of multiple iOS and watchOS apps
Introducing CI/CD for many apps
Concept and implementation of a new Web, iOS and watchOS apps
Coordination of many locales across multiple platforms
Maintenance of legacy software
Sharing code and infrastructure across new projects
Swift, Typescript, Bitrise, Fastlane, Angular, React, Redux, ReactiveX, ...
Software Developer, Conclurer – 2016 – 2020
Development of a highly customizable mobile app based on web technologies
Implementation of an offline first data abstraction layer
Responsible for customization and white labeling apps for more than 5 companies
Digitalization of business processes for customers actively used in production
Introduced and improved Continuous Integration and Continuous Deployment pipelines
Typescript, Docker, Travis CI, Heroku, AWS, Vue.js, Angular, Ionic, Stencil, Cordova, Capacitor, Redux, ReactiveX, ...
Remote Freelance iOS Developer, Conclurer for an American customer – 2015
Design and development of an media-rich iOS app in Swift
Offline synchronization of metadata, images and videos
Automated screenshots and Continuous Deployment
Swift, Objective-C, Fastlane, S3, Parse
Remote Student iOS-Developer, Freeletics – 2013
First hired developer for the iOS-App written in Objective-C
Stabilizing and refactoring freshly released App
Objective-C, Fastlane
Bachelor of Science in Informatik, Ulm University – 2012 – 2017
Bachelor thesis: translated "Conception of a generic Data Model for iOS in Context of acoustic Localization" (original "Konzeption eines generischen Datenmodells für iOS im Kontext akustischer Lokalisation")